► ►
... Please always download and use the latest version of Quad-Explorer: Q-Dir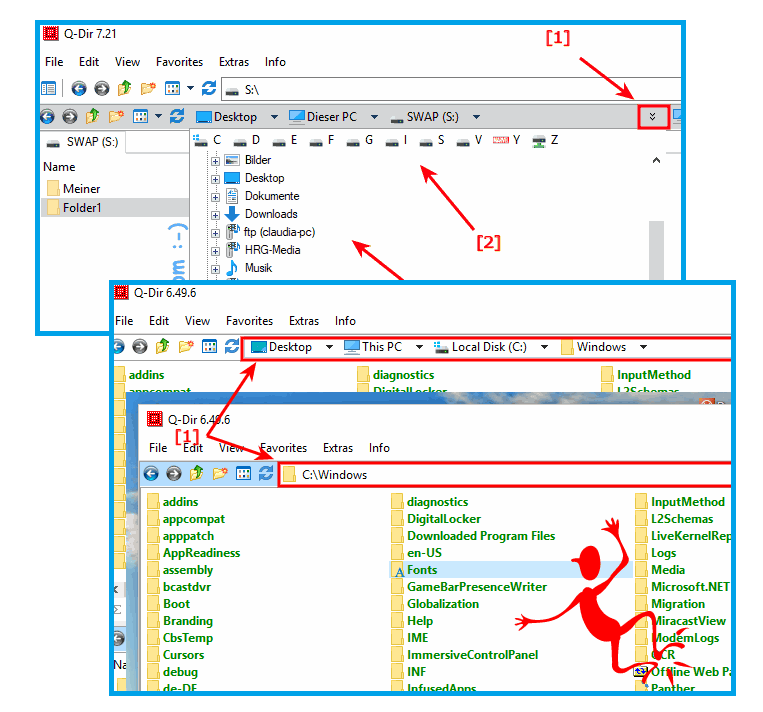 One among our several one-liner quick classic adress bar for Windows 10 and all other Windows os is that you can use the explorer address bar as a run box in quad-explorer. the Windows alternative file explorer lets you easy manage your files and folders. you can navigate it by using the links in the left navigation pane or by typing the folder locations in the quad-explorer address bar.
changing the classic to modern address bar. both use classic and modern address bar?
the fast drives switching via the address bar, further links to information about the address bar!
now you can benefit from the advantages in both file explorer address bar on Windows 10.
on Windows 10 mixing from the address bars in the file explorer integrated directory tree in every file explorer address bar!
the top main address bar adjust also on windoes 10 and other Windows operating systems.
and the address bar in the file explorer views for Windows 10 to Windows xp.
both address bars in file explorer.
Windows Explorer is located behind the folder display computer as well as behind the shell desktop, start menu, taskbar. For the presentation of the folder window, some tricks can be used to improve the display.
would you like to quickly see the path to a folder or a file? in the address bar of the folder window, click after the name of the last folder. then the path appears in the address bar.
would you like to be able to delete comfortably in the folder window or to access the control panel quickly? if you select the show all folders check box on the general tab , the respective items are displayed in the navigation bar.